There's a new way of living over here. Come on over!
You know what it's like when your life is seriously lacking in breathing room. There's no space in your schedule, no space in your home and no space in your mind.
It's like your entire life is cluttered down to every crevice and you're dragging around this enormous weight every waking moment.
You're working hard for the future and becoming a master juggler of the many tasks (which almost never get completed).
Propelled by guilt, you're constantly fighting resistance to just be productive- clean the house, find what you need, be all of the places, and keep it together.
That's where I used to be and that's why I'm here to help you change things.
Things can be different! Imagine if…
Your life was filled with space to breathe. Enjoying clean white space in your calendar, your home, and your mind.
You weren't living for the to-do list. No longer feeling like you were constantly completing tasks with no quality return.
You were accumulating funds instead of debt. Achieved your savings benchmark and felt confident in your finances.
You had time and energy to create and live instead of just surviving. Flourishing in newfound creativity and energy.

Your home was a haven that expressed who you are. Rather than decaying under clutter, your home was a loved reflection of who you are and who you want to be!
I'm Mia and that's me

↑
I live in Portland, OR with my two awesome daughters and my amazing partner, Matt. But my roots are from a small town in southeast Texas where I was born and raised.
I was that kid who would arrange the drawers when my parents were gone as a gift to my mom. I would clean the island kitchen counter for my parents by removing everything from it and present it to the family in all of its simple glory. 
Everything had a place and, even in high school, my favorite place in the world was the local consignment shop where I made about fifty bucks a month just getting rid of my family's junk. 
At that time, I didn't even know there was a word for it, just that it made me feel good. My spirits were lifted when my environment was working with me instead of against me. 
It wasn't until my mid to late twenties after series of screwups and nauseating depression that I made the decision to truly simplify my life. 
See, what had happened was, I was piling it on. I was littering my schedule, my emotions, and my mind with more…more…more. More work, more money, more knowledge, more guilt, more coffee. And, in the process, nothing had priority. 
It's all about environments.
Your happiness is directly tied to your mind, and your mind is directly tied to your environment. So, altering your environment can bring you happiness and joy OR stress and despair.
It just so happens that these are areas that I know I can help people with. So, that's why I'm here.
BECOME A STRATEGIC MINIMALIST
Strategically simplify your life and your home with your new favorite tool: minimalism.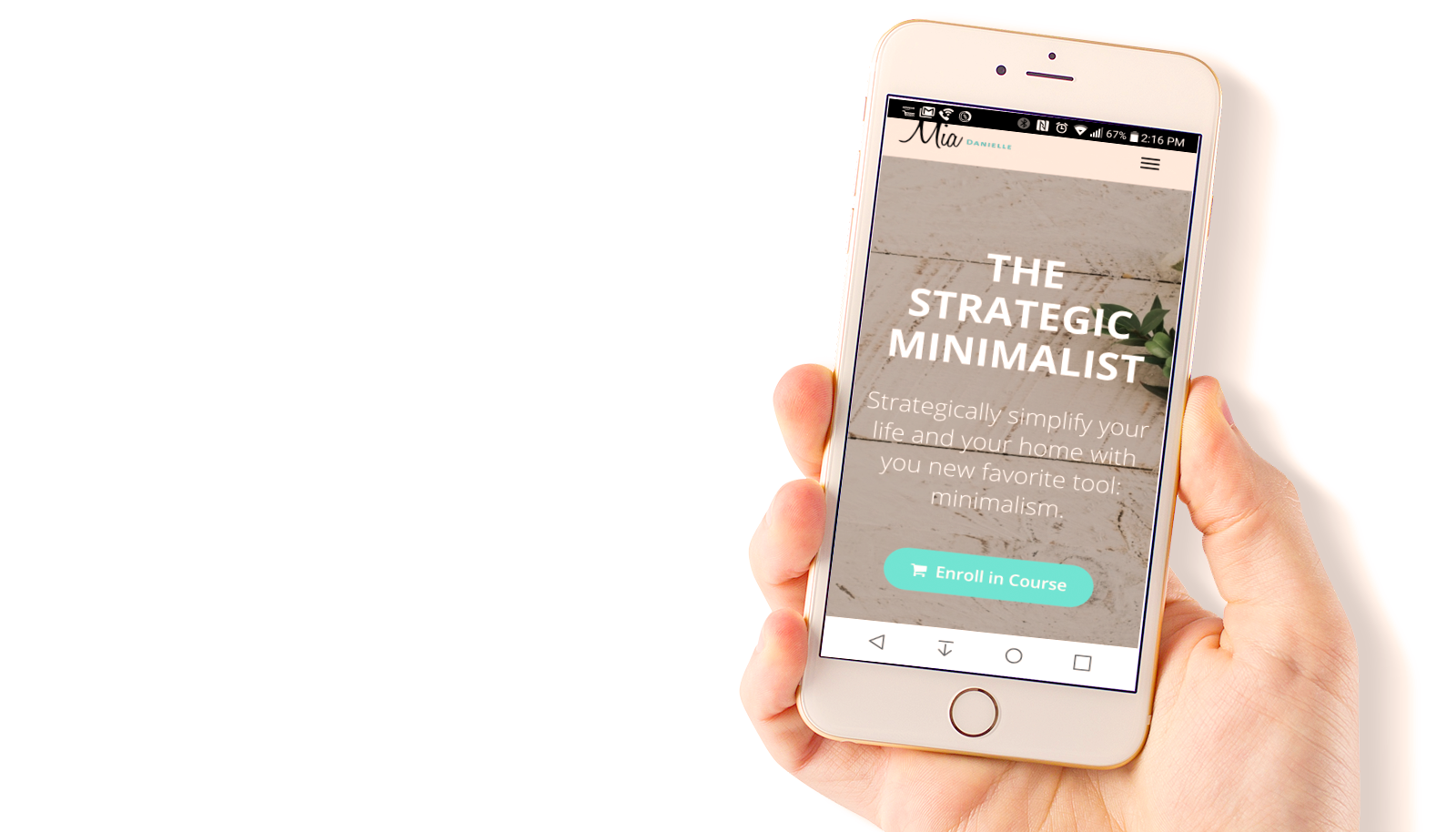 I created The Strategic Minimalist to share the exact principles and strategies that transformed my life from one of chaos and depression to a life of waking up every morning feeling truly…well, happy.
Before, there didn't seem to be a way through life that didn't involve pushing and pushing to get to the next level. The name of the game was resistance and I was ready to quit.
This course teaches you the foundation for living a minimalist lifestyle. It is constructed around proven strategies that have worked for so many others, myself included, and I have catered this program to parents.
Unlike most courses that focus on telling you which items to get rid of and how to organize, The Strategic Minimalist focuses on teaching you the strategies to be successful without rebound in your own minimalist journey.
This is not just for people who want a cleaner house, this is for people who want a better life!